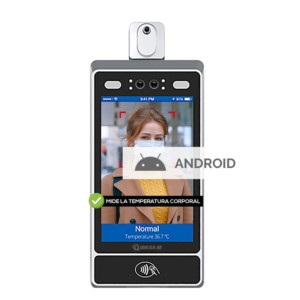 We have included in our catalog access control and time control terminals by facial recognition and/or palm of the hand with temperature measurement (+/-0.3º). Indispensable if we want to protect our staff and avoid stopping production due to a possible contagion.
An important condition to be able to use these time clocks is that they cannot be installed in front of a strong light source (sun, spotlights) because the recognition by means of a camera affects the "backlight".
These devices will give us a plus of security in the current situation. Although its cost is somewhat higher than one that does not have temperature detection, much higher is the cost of having to stop the production of our entire company, so it is quickly amortized.
As a time clock it will guarantee that the person who performs the clocking is the one who should do it and saves us the cost of having to purchase cards, so it can be a more economical system than with strip or proximity cards.
This equipment allows us to open doors, or activate any electronic device, such as automatic doors, turnstiles, barriers, etc… when an authorized person signs in, either by facial recognition, fingerprint, card (optional) or code + pin.
They have an auxiliary relay that can be connected to a siren and that provides an acoustic warning in case of detection of abnormal temperature.
Temperature access control for companies